US records at least 39 mass shootings in first 24 days of 2023 alone
– Al Arabiya English
 25 January ,2023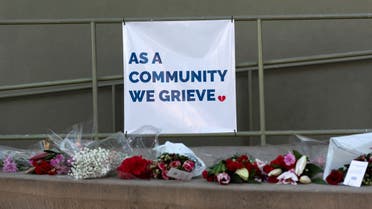 Flowers are pictured in a public square near the City Hall to honor the victims, the day after a mass shooting at two locations in the coastal city of Half Moon Bay, California, US, January 24, 2023. (Reuters)
California experienced a tragic event over the weekend when a mass shooting in Monterey Park left 11 people dead. Just two days later, another shooting took place in Half Moon Bay, located almost 400 miles away, claiming the lives of at least seven people.
In addition to these incidents, there were four other mass shootings that took place within the US during that time frame. The number of shootings this year has already surpassed the number of days that have passed.
According to the Gun Violence Archive, a nonprofit organization that tracks the spread of this issue referred to as an "American disease," there have been at least 39 mass shootings in the country from the beginning of 2023 until January 24.
The organization defines a mass shooting as a single incident in which at least four people, excluding the shooter, are shot.
During the first three weeks of 2023, at least 70 died and 167 were injured as a result of mass shootings, the archive revealed, marking a historically quick start for mass shootings this year, with more incidents recorded in the first 24 days of January than in any previous year over the past 10 years.
Despite the US Congress passing the most comprehensive federal gun control legislation in three decades last year, which included stricter background checks and support for state-level red flag laws, the frequency of mass shootings continues to rise.
In light of these tragic events, there have been hundreds of renewed calls for stronger federal gun control measures but state-level efforts, such as those in California, have faced obstacles from the Supreme Court, which has repeatedly struck down multiple restrictions, including bans on high-capacity magazines.
In an attempt to tackle the deeply entrenched gun culture in the US after these tragic incidents took place, President Joe Biden urged Congress on Monday to pass a pair of bills seeking to ban assault weapons and high-capacity magazines and raise the purchasing age of guns to 21, calling on lawmakers to "act quickly."
"The majority of the American people agree with this common sense action. There can be no greater responsibility than to do all we can to ensure the safety of our children, our communities, and our nation," Biden said in a statement on Monday.
Since January 1, mass shootings have taken place in Pennsylvania, North Carolina, Florida, Illinois, Ohio, Virginia, the District of Columbia, Utah, Louisiana, Texas, California, Louisiana, Mississippi, Arizona, Missouri, Colorado, Georgia, and Alabama, according to data from the Gun Violence Archive.
The data is a somber realization of the state of gun violence in the US, pointing to firearm injuries as the current leading cause of death among people below the age of 24, evidence that is backed by a study published in December 2022 in the journal of the American Academy of Pediatrics.