TikTok 'thinspiration' videos contribute to eating disorders among UAE teens: Experts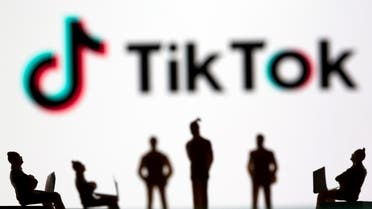 Small toy figures are seen in front of TikTok logo in this illustration picture taken March 15, 2021. (File photo: Reuters)
– Al Arabiya English
12 January ,2023
Psychologists and doctors are warning that hugely popular social platforms such as TikTok are paving the way for a rise in eating disorders and distorted body image perceptions in teenagers across the United Arab Emirates and wider Middle East.
The warning follows a report on youth mental health published last month in which researchers said TikTok's algorithms are promoting an endless stream of content related to food and weight loss, including "thinspiration" and "fitspiration" videos that glorify extreme thinness.
Researchers at the nonprofit Center for Countering Digital Hate created TikTok accounts for fictional teen personas in the US, United Kingdom, Canada and Australia. The researchers operating the accounts then "liked" videos about eating disorders to see how TikTok's algorithm would respond. Within minutes, the platform was recommending videos about losing weight, including ones featuring pictures of models and idealized body types.
When the researchers created accounts with usernames that suggested a particular vulnerability to eating disorders — names that included the words "lose weight" for example — the accounts were fed even more harmful content.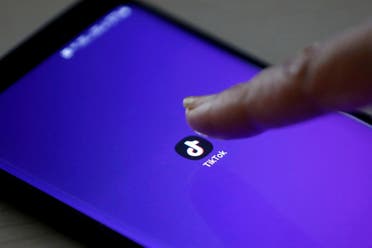 The TikTok app's logo seen on a mobile phone screen in this picture illustration taken February 21, 2019.(Reuters)
"It's like being stuck in a hall of distorted mirrors where you're constantly being told you're ugly, you're not good enough, maybe you should kill yourself," said the center's CEO Imran Ahmed at the time. "It is literally pumping the most dangerous possible messages to young people."
Eating disorders on the rise
In the UAE, experts say eating disorders and body esteem issues are a prevalent problem.
Aisling Prendergast, a psychologist and community services lead at Lighthouse Arabia, a clinic for mental health and wellness, providing psychological and psychiatric care to children and adults said social media platforms can be damaging to a users' mental health.
"Setting these ('thinsperation') images as 'norms' for teenagers but also for adults is incredibly dangerous," she told Al Arabiya English. "Logically, many of us are aware that the content of 'thinspiration' or 'fitspiration' videos are completely unrealistic for most body shapes and sizes and require an insurmountable amount of time, energy and focus on exercise and minimal food intake."
"Another huge problem with such content is that most of these videos are also manipulated in many ways, whether it's through filtering or people moving their bodies in various poses. These poses can make people 'look' like they have a certain body shape that in actual fact they do not and do not accurately show what the person's body looks like."
Teenagers are highly susceptible to these unrealistic images, said Prendergast.
"Sadly, we see all too many teens and adults with low self-esteem, low body acceptance and disordered eating," she said. "Poor body image and low self-esteem has a very high prevalence in the UAE."
"Social media platforms play a role in bombarding individuals with these images."
"Platforms like this certainly play a role in the pressure that young people feel to replicate these 'ideals.' The images that young people see online, are also not real. They are digitally enhanced images that a 'normal' body just cannot achieve."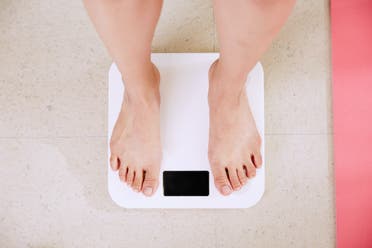 In the UAE, experts say eating disorders and body esteem issues are a prevalent problem. (Unsplash)
Social media 'just one factor', but influential
Prendergast said many factors influence and predispose a young person to develop an eating disorder.
"The 'diet culture' is one of the biggest risk factors that we all face. Every eating disorder starts with a diet. However, if diets actually worked, there would be no more dieting industry- so what does this tell you about how 'healthy' or sustainable diets are?"
Carla Khalil, a clinical neuropsychologist at the UAE's Brain Matters Center, told Al Arabiya English social media can be "especially influential to body image."
"In my experience, being on social media exacerbates the development of a higher drive for thinness, internalization of the thin-ideal, body surveillance, and self-objectification," she said. "In my practice, I am finding that higher exposure to social media, contributes to developing higher comparison tendencies in adolescents, not only to general body shape, and thinness related themes, but also, to face, skin and hair-related concerns."
Tuna Bereket, clinical psychologist at the Dubai-based Hortman Clinics, also told Al Arabiya English that social media has been linked to negative effects on body image.
"(This is because) users are exposed to a constant stream of curated and edited images of other people's bodies, which can lead to feelings of inadequacy and self-consciousness," said Bereket. "Research has shown that the more time people spend on social media, the more likely they are to compare themselves to others and experience body dissatisfaction."
"Additionally, the pressure to present a perfect image on social media can lead to feelings of shame and low self-esteem. Negative body image can also lead to disordered eating and other harmful behaviors."
Social media can be harmful to teens in a variety of ways, including negatively impacting their body image, explained Bereket.
"Social media can contribute to pressure for teens to conform to societal ideals of beauty and appearance. Research has shown that exposure to images of idealized bodies on social media can lead to feelings of inadequacy and low self-esteem in teens. Additionally, social media can be a breeding ground for bullying and negative comments about appearance, which can further exacerbate body image concerns."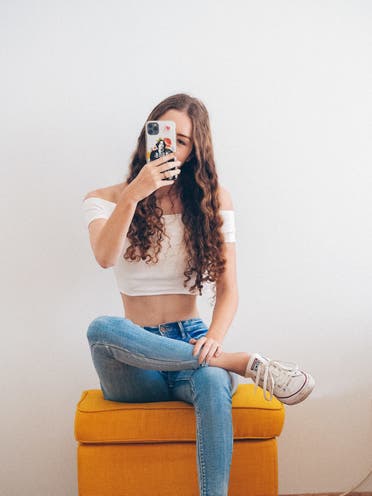 Psychologists and doctors are warning that hugely popular social platforms such as TikTok are paving the way for a rise in eating disorders. (Unsplash)
Dr Mohamed Abdelbadie Ismail, a specialist psychiatrist at Burjeel Royal Hospital in Al Ain, concurs. He said as with any social media platform, there are both positive and negative effects that TikTok can have on its users.
"One of the main concerns is that TikTok can be a breeding ground for "thinspiration" content, which promotes unhealthy or unrealistic body ideals and can lead to feelings of inadequacy or body dysmorphia in users.
"These videos feature extremely thin individuals, often with hashtags and captions promoting weight loss and other potentially harmful messages. Additionally, many videos promote extreme dieting, weight loss supplements, and detox teas, which could be dangerous for some users."
On the other hand, TikTok also has many positive aspects that can help promote self-acceptance and body positivity, said Dr Ismail.
"Many users and content creators have used the platform to share their personal struggles with body image and to promote self-love and acceptance. Many influencers and activists use the platform to spread awareness about body diversity and the importance of self-care and healthy habits rather than promoting restrictive diets or weight loss."
"It is worth noting that TikTok has made an effort to control the negative impact it could have by implementing content moderation rules and working with experts to build resources that help people get accurate information on health and wellness."
"As with any form of social media, it is essential for users to be aware of the potential negative effects and to use the platform responsibly. It is also important to be mindful of the content you consume and to seek out positive, healthy role models rather than focusing on negative or harmful content."
On the study published last month, TikTok disputed the findings, noting that the researchers didn't use the platform like typical users, and saying that the results were skewed as a result. The company also said a user's account name shouldn't affect the kind of content the user receives.
"We regularly consult with health experts, remove violations of our policies, and provide access to supportive resources for anyone in need," said the statement from TikTok, which is owned by ByteDance Ltd., a Chinese company now based in Singapore.
TikTok prohibits users who are younger than 13, and its official rules prohibit videos that encourage eating disorders or suicide. Users in the U.S. who search for content about eating disorders on TikTok receive a prompt offering mental health resources and contact information for the National Eating Disorder Association.
Despite the platform's efforts, researchers at the Center for Countering Digital Hate found that content about eating disorders had been viewed on TikTok billions of times. In some cases, researchers found, young TikTok users were using coded language about eating disorders in an effort to evade TikTok's content moderation.
Using social media safely
Bereket said it is important to note that eating disorders can be caused by a combination of genetic, psychological, and environmental factors – and not all the effects of social media on teens are negative. Social media can also be a positive space for teens, as it provides a means of connecting with others and expressing themselves.
"Additionally, some studies have shown that social media can promote body positivity and self-acceptance."
"To mitigate potential risks and promote positive effects of social media, parents, educators and healthcare professionals can educate teens on how to use social media safely and responsibly and encourage them to be critical consumers of the content they encounter online.
"It's important to note that it's not solely social media's fault and it is a complex issue involving multiple factors and interactions."
Prendergast said to create long lasting self-esteem and body confidence in young people requires targeting six keys areas; including the influence of family and friends, helping young people to critically analyze celebrity and media culture, educating young people on the effects and consequences of bullying and body shaming on the developing brain and how to handle this, the effects of competing and comparing with each other based on looks, talking about appearance which includes reducing the shame and stigma around differing body sizes and shapes and fundamental strategies and skills to help young people develop self-respect.
"Counterbalancing the effects of poor body image across the life spans of society requires systematic change. Talking and educating young people about it alone, is not enough to create change."
"We need to educate young people in body confidence as a society, helping them develop a better relationship with themselves. We all need to change our narrative about our own bodies and cease passing comments on anyone else's body whether that is a positive or negative comment."
"If you are concerned about a loved one, consider having a non-judgmental conversation about what you have noticed and what your concerns are."
"Eating disorders have the highest mortality rate of any mental health illness. Consider taking a course in Mental Health First Aid to help you to have these difficult conversations. Reach out to a trusted a GP or contact a psychologist who has specialist knowledge in the area of eating disorders."
"Early intervention is paramount in the case of eating disorders."
Seeking help, raising awareness
Bereket said there are several things that parents can do to help prevent their children from developing an eating disorder.
"Model healthy eating habits for your children and provide them with a variety of nutritious foods. Avoid making negative comments about your own or others' weight or appearance in front of your children."
"Encourage your children to appreciate their bodies for their abilities and strengths, rather than focusing on their appearance and encourage your children to participate in physical activities they enjoy, rather than focusing on weight loss or weight control."
"Be aware of warning signs of an eating disorder, such as drastic weight loss, preoccupation with food or weight, and extreme pickiness about food."
"Get help if you suspect an eating disorder: If you suspect that your child may have an eating disorder, seek help from a healthcare professional with experience treating eating disorders."