Shehu Sani to French President: Your direct actions which denigrated Muslims stands to be condemned
Content created and supplied by: Ebukajp11 (via Opera News )
The former Senator that represented the people of Kaduna Central Senatorial zone, Shehu Sani has sent out his candid message to French President, Emmanuel Macron. It was reported a week or two ago that a young man was beheaded in France, because of what some group of people regarded as blasphemy against Islam and Prophet Muhammad (PBUH). After that said incident occurred, the French President decided to take strong action against Muslims in the country
Shehu Sani who started by condemning any form of terrorism or attack which is committed in the name of Islam in France. According to the former senator, he regarded it as a pure madness and an evil act which he condemned in its entirety.
He went further and made the French President to know that any of his action which supports the denigration of Muslims and desegregation of Prophet Mohammad PBUH, is equally condemnable.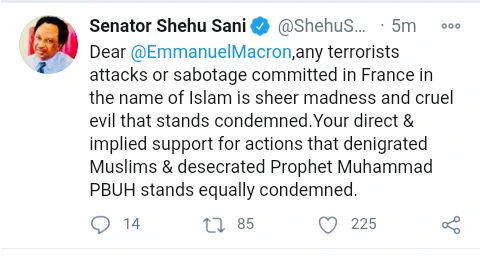 Senator Shehu Sani has really said it all. Senator Shehu Sani is one man who is loved by many due to the way and manner he speaks. He is a well known politician and a human right activist who has in one way or the other changed many lives positively.
Content created and supplied by: Ebukajp11 (via Opera News )