Saudi Arabia's women's football team wins its first-ever international match
Al Arabiya English
February 21, 2022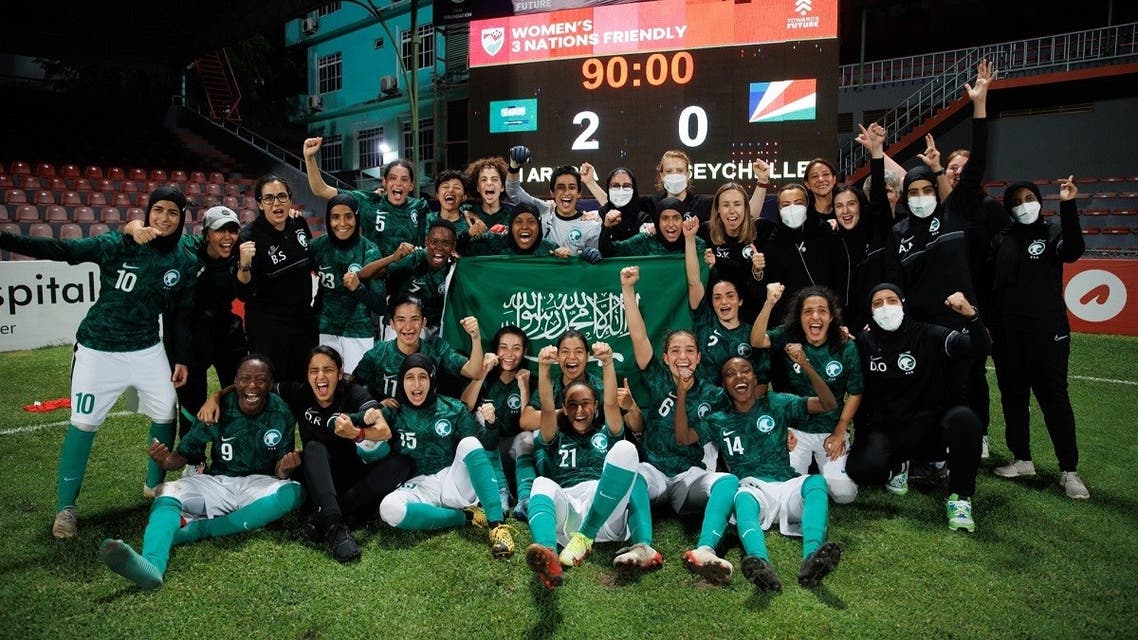 The team will also play against the Maldives on February 24. (Twitter)
Monika Staab, the coach of the Saudi women's football team, had voiced the significance of this "historical game" ahead of the match, saying: "This is a historical moment for women's football in Saudi Arabia."

"I want to tell the players to enjoy [the matches] and to be proud of being in the [team]. They must give their [best] during these two matches… they are very lucky to have this opportunity of representing Saudi Arabia," the German coach added.

Lamia bin Bahian, director of the women's football department and member of the board of directors of the Saudi football federation, said the match is a historical event given it's the first for the women's football team.

"This is the beginning. There is a long journey to achieve our aim of participating in regional and international championships," she was quoted as saying by SPA.

Following their victory over the Seychelles, the Women's Football Department in the Saudi Football Federation, congratulated the team via Twitter and wrote: "Together, we make history."

Legendary player Pele also congratulated the team saying: "Today is a historic day not only for you, but for everyone who loves football."
It could be recalled that Saudi Arabian Football Federation (SAFF) launched the first edition of the Saudi Women's Football League, as announced by the official Saudi Press Agency (SPA) reported.
The league is set start on November 22, 2021.
The step comes "within the SAFF's time frame dedicated to the women's football support program since 2017," the press agency said.
It will be held in two phases through the domestic regional league in its first phase, with the participation of 16 teams, who will be playing their matches in three cities across Saudi Arabia: Riyadh, Jeddah, and Dammam.
"This announcement is of a paramount moment in the federation's history," the President of the Saudi Arabian Football Federation Yasser al-Mishal, said, according to SPA.
He said that all relevant rules and regulations for the women's football league had been finalized, adding that SAFF "is keen to implement and adhere to due to the importance of this edition of the Saudi women's football," SPA reported.