Saudi Arabia's high-speed railway inducts 32 female operators after 12-month training
– Al Arabiya English
24 January ,2023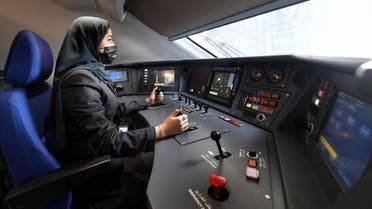 One of the new female drivers of the Haramain High Speed Express sits at the controls. (SPA)
Saudi Arabia's railway now has 32 qualified women operators at the helm of the Kingdom's high-speed rail network.

The Saudi Railway Polytechnic qualified 32 women to drive the Haramain Express Train, after 12 months of training, the Saudi Press Agency reported on Monday.

The bullet trains run through a 453-kilometer stretch between the Saudi cities of Mecca and Medina.

The Saudi rail authorities released a video featuring some of the women who took part in the training who spoke about how proud they felt being a part of the new initiative.

Last week, Saudi Arabia's Investment Minister Khalid al-Falih said that the Kingdom will build 8,000 kilometers of railway across the country.

Saudi women are being empowered to make significant contributions to the Kingdom's economy in recent years; their ability to drive in recent years has played a major role to further this growth.

Prior to 2018, Saudi women were not permitted to drive, which limited their mobility and in turn their career opportunities.

Since then, women in Saudi Arabia have made significant strides in the workforce. This trend is expected to continue as the government works towards its goals under Saudi Vision 2030, a plan set forth in 2016 to diversify the economy and reduce its reliance on oil.

Women in Saudi Arabia are now able to take on a wider range of jobs, including positions in the transportation and logistics sectors, which were previously off-limits.