Saudi Arabia sees surge in expats as the Kingdom attracts foreign business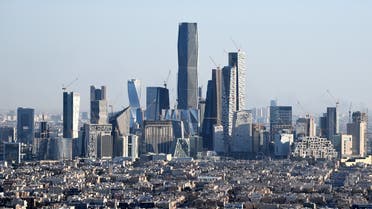 This picture taken on January 11, 2020, shows a general view of Riyadh. (AFP)
– Al Arabiya English
24 January ,2023
Professional expatriates are streaming into Saudi Arabia as the Kingdom eases visa rules and continues to attract foreign business.
Accounting firm Deloitte hosts the majority of its 6,000-strong regional workforce in Saudi Arabia, and says that numbers will "grow significantly year-on-year," Deloitte Middle East CEO Mutasem Dajani told Al Arabiya English.
"Major transformational projects" in Saudi Arabia and the country's "unrivaled economic growth" make it an attractive location for expatriates, Dajani added.
While foreign workers have long played a significant role in Saudi Arabia's economy, social reforms coupled with increasing job opportunities are making it a more attractive destination.
Rached Bejjani, a relocation consultant based in Riyadh, said: "There are a lot more expats coming into the country… these past four or five months, it's been crazy."
Preliminary data from the Saudi General Organization for Social Insurance (GOSI) also suggests that there has been a surge in the number of foreign workers in recent months.
The number of non-Saudis signing up to the Kingdom's social insurance scheme (mandatory for most employees) skyrocketed from 198,803 in Q2 2022 to 1,183,577 in Q3 2022 — nearly a sixfold increase — according to a General Authority for Statistics report.
Regional headquarters
Several government initiatives have led companies to expand their Saudi operations, including the declaration in February 2021 that businesses must establish regional headquarters in the country by the end of 2023 in order to work on government contracts.
The Saudi Press Agency reported in 2021 that 44 multinationals including Deloitte, Unilever, and Siemens, had agreed to move their regional headquarters to Saudi Arabia.
Speridian Technologies is one company that will be opening a new office in Riyadh in February, which will be staffed by around 100 foreigners and Saudis.
The IT and consulting firm has been doing business in the Kingdom for 15 years, mainly operating out of its Dubai office.
With recent changes, not least the Saudi government's emphasis on improving digital systems, the company sees new opportunities arising.
"We feel that Saudi as a country and the Middle East as a region is poised to really grow over the next couple of years," said Ali Hasan, Speridian's CEO.
"We feel that the region appreciates and recognizes good companies who've been there a long time, not the sort of fly by night types. We feel that we can make a real inroad into the market."
Labor and visa laws relaxed
New labor laws came into effect in March of 2021, allowing employees to switch jobs without having to seek the approval of their employer.
A change to the exit and re-entry visa system gave employees more leeway to travel outside of the Kingdom without having to seek permission from their employer on each journey.
The government also introduced a new temporary work visa in early 2021, allowing short-term employees to stay in the country for 90 days.
Along with changes to visit visas for tourists, including visa-on-arrival for certain passport holders introduced in September 2022, these reforms have opened the country to foreigners in a radical way.
Cultural differences
Historically, the conservative way of life in Saudi Arabia has proved to be a barrier for many foreign workers considering the move.
While the law still places restrictions on certain aspects of life that neighboring countries do not, notably the open sale of alcohol, other social reforms have eased any potential culture shock that expatriates might face.
Men and women mix freely in Riyadh's numerous cafes, for example, and the capital's Tahlia Street has a lively coffee culture with patrons crowding the patios on winter nights.
"We all heard stories before," explained Bejjani, himself an expatriate from Lebanon. "Then you come here, and you see the opposite."
"I believe everybody who comes here makes his own experience of Saudi."
"Now, maybe some people, and I would say a minority, would not like it, but people have different tastes."
"The majority of the people that I'm meeting are happy here."