Saudi Arabia, Gulf countries condemn tearing of Quran in Netherlands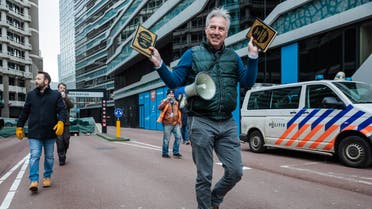 Edwin Wagensveld, leader of the far-right German anti-Islam group Pegida. (Sebastiaan Barel / Twitter)
– Al Arabiya English
 25 January ,2023
Saudi Arabia issued a statement on Tuesday condemning the tearing of the Quran by an extremist in the Netherlands.

The Ministry of Foreign Affairs issued a statement of "strong condemnation and denunciation" after the leader of a far-right German anti-Islam group staged the protest.
Police personnel were seen looking at the act but did not intervene.

The ministry said that such a "disgraceful act provokes the feelings of hundreds of millions of Muslims around the world."

The Ministry of Foreign Affairs reiterated the Kingdom's position on the importance of "spreading the values of dialogue, tolerance, and coexistence, and rejecting hatred and extremism."

The UAE's foreign ministry also issued a statement on Tuesday which said: "the Ministry of Foreign Affairs and International Cooperation (MoFAIC) affirmed the UAE's permanent rejection of all practices aimed at destabilizing security in contravention of human and moral values and principles."

"The Ministry stressed the need to respect religious symbols and to avoid incitement and polarization at a time when the world must work together to spread the values of tolerance and coexistence and reject hatred and extremism."

Similar statements of condemnation were issued by Qatar, Kuwait, Jordan, Egypt and the Organization of Islamic Cooperation (OIC).

Turkey also protested the act and summoned the Dutch ambassador to express its displeasure.

The summons came days after a similar protest outside the Turkish embassy in Stockholm threatened to sink Sweden's ambitions to join the NATO defense bloc.

Turkish President Recep Tayyip Erdogan said Monday that Sweden could no longer expect support for its NATO membership bid following its decision to allow an anti-Islam protester to burn the Quran.