Saudi Arabia foils attempt to smuggle almost 3mln Captagon pills, arrests two
– Al Arabiya English
27 January ,2023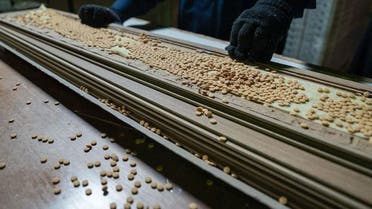 Authorities in Saudi Arabia foil an attempt to smuggle 2,972,400 Captagon pills. (SPA)
Authorities in Saudi Arabia foiled an attempt to smuggle 2,972,400 Captagon pills that are estimated to be worth up to $75 million, the Saudi Press Agency (SPA) reported on Thursday.
The Zakat, Tax and Customs Authority (ZATCA) seized the drugs at the King Abdulaziz Port in Dammam, which were found hidden in a shipment coming from abroad.
Authorities in Saudi Arabia foil an attempt to smuggle 2,972,400 Captagon pills. (SPA)
The pills have an estimated street value ranging from $30 million to $75 million, research published in the International Addiction Review Journal revealed.
During the customs inspection and security checks at the port, the pills were found hidden inside wooden planks, SPA reported.
Two people who were expecting to receive the shipment were arrested, according to ZATCA.
ZATCA will continue to crack down on drug smuggling in the Kingdom and tighten its customs control to ensure the security and protection of society.
It also called on the public to help combat smuggling by contacting the authority's designated number for security reports (1910), or e-mail (1910@zatca.gov.sa), or on its international number (00966114208417).
The authority said it would ensure reports related to smuggling crimes are treated with the utmost confidentiality and informers would be granted a financial reward if the information provided is proven correct, SPA reported.