Saudi Arabia asks UN to designate Houthis terrorist group as Yemen peace talks stall
– Al Arabiya English
 17 January , 2023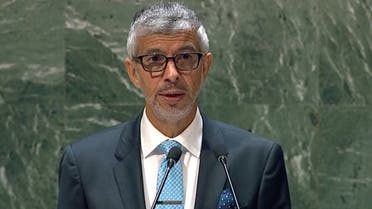 Saudi Arabia's Permanent Representative to the United Nations Abdulaziz al-Wasil. (Supplied)
Saudi Arabia's Permanent Representative to the United Nations Abdulaziz al-Wasil on Monday called on the Security Council to designate the Houthis as a terrorist organization as the Iran-backed group continues "to stall and reject peaceful solutions."
The Security Council must "take more stringent measures" against the Houthis, adding that their designation as a terrorist group has become an urgent matter.
Saudi Arabia has not seen any real desire from the Houthis to end the conflict in Yemen and reach a comprehensive political solution, he said during the meeting that was held to discuss the latest developments in the war-torn country.
The Kingdom will continue to support all international efforts to bring peace to Yemen in accordance with international and regional initiatives, al-Wasil said.
Speaking at the Security Council meeting on Monday, UN envoy for Yemen Hans Grundberg thanked Saudi Arabia and Oman for their diplomacy and said discussions in the past month have developed "options for mutually acceptable solutions to outstanding issues."
He said he was encouraged by intensified efforts for an expanded truce deal but stressed they should seek an inclusive process for a sustainable political settlement, but that the situation remained "complex and fluid."