Saudi Arabia 'actively engaged' with Russia, Ukraine to put end to conflict: FM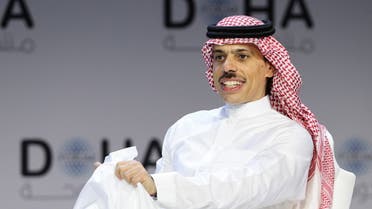 Saudi Arabia's Foreign Minister Prince Faisal bin Farhan. (File photo: Reuters)
– Al Arabiya English
20 January ,2023
Saudi Arabia continues to engage with Russia and Ukraine to find a way to end the conflict which is approaching its one-year anniversary with no end in sight, the Kingdom's Foreign Minister Prince Faisal bin Farhan said.
"Our main objective is to find a way to end the conflict. And I think everybody agrees that the only way this conflict will end eventually is at the negotiating table," Prince Faisal said in an interview with Bloomberg TV on Thursday.
The Kingdom hopes to "encourage all parties to find a path sooner rather than later to that table," the foreign minister said, refraining from revealing any details about Saudi Arabia's engagement because this is "not helpful."
However, Prince Faisal noted that the Kingdom is "very active" and is engaged with both Moscow and Kyiv, as well as with others that are concerned about the conflict to help reach an end to it via negotiations.
Asked whether he thinks there is a risk of further escalation in the war or sees a window for de-escalation, the minister noted that there although there is always a chance of escalation in conflicts, efforts must continue to push whenever possible to reach a resolution.
"I don't see necessarily a window right now. I think that obviously the risk for escalation is always there in any conflict, because both parties will always be suing for advantage. And I don't know if we have a window now, but we need to keep working. And whenever we see an opportunity, we will push as much as we can."
Prince Faisal also said that the important partnership with Russia within OPEC+ contributed to the stability of the oil market.
"We have a very important partnership with Russia in OPEC+ that has delivered stability, the oil market," he said, adding that is important for Saudi Arabia as well as the global community.
"We see other energy sources having significant price swings [and] significant escalation. We've been able to keep oil relatively stable."
On relations between China and the Kingdom, Prince Faisal said the US continues to be Saudi Arabia's top security partner, even as ties warm between the Kingdom and China.

The US is "the most active security partner in the region, he said, though "China continues to be an important trading partner."

On Syria, the foreign minister said countries in the region should work together to find a "political solution" to an ongoing 12-year civil war.

"We are working with our partners to figure out a way to engage with the government in Damascus in a way that delivers tangible movements toward a political resolution," he said.

"That's going to take some work."
The foreign minister also reaffirmed that an agreement to create a Palestinian state would be a precondition for the Kingdom to establish formal diplomatic ties with Israel.

"We have said consistently that we believe normalization with Israel is something that is very much in the interest of the region," Prince Faisal said. "However, true normalization and true stability will only come through giving the Palestinians hope, through giving the Palestinians dignity."

"That requires giving the Palestinians a state, and that's the priority," he said.

Neighbors of the Kingdom including the United Arab Emirates and Bahrain formalized relationships with Israel in 2020 under a US-brokered agreement, known as the Abraham Accords.

Israel has since been looking to expand on that breakthrough with other Arab countries, and Prime Minister Benjamin Netanyahu discussed ways to improve relations with Saudi Arabia with US National Security Advisor Jake Sullivan on Thursday.
– Bloomberg