Ramadan and Eid al-Fitr 2023: Expected dates, public holidays in UAE, Saudi Arabia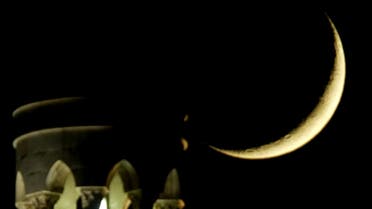 A crescent moon rises close to the illuminated minaret of a mosque in Amman. (Reuters)
-Al Arabiya English
24 January ,2023
Ramadan is expected to fall on March 23 this year, according to the Emirates Astronomical Society.
While the precise start of Ramadan and Eid al-Fitr will be confirmed closer to the time by the Moon-sighting committee, if this is the case, the 30-day holy month of fasting will end on Friday April 21, with Eid al-Fitr falling on the same day.
That means Eid al-Fitr 2023 is expected to be commemorated with a four-day weekend in the UAE, which would fall on April 20, 21, 22 and 23.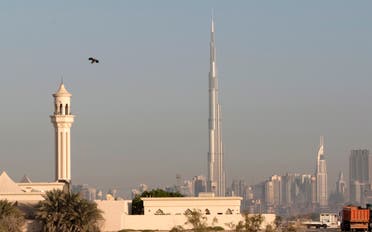 A mosque is seen in front of the world's tallest building Burj Dubai during the Eid al-Adha holiday in Dubai, November 27, 2009. (File photo: Reuters)
Eid al-Fitr is expected to be marked on the same date in Saudi Arabia, with a similar number of public holidays.
Last year the holy month began on April 1.
The start of Ramadan changes every year based on Islamic calendar, which consists of 12 lunar months totaling either 354 or 355 days and because of this it moves up to 10 days earlier each year in the Gregorian calendar
Public holidays in 2023
After Eid al-Fitr there are officially five more occasions when UAE residents will be given one or more days off during the rest of 2023.
Next up is Arafat Day, the second day of the week-long Hajj pilgrimage, set to take place in June, followed by Eid al-Adha, set to fall on the last weekend of June between June 28 and Jun 30.

The next public holiday will mark the Islamic New Year on July 21, followed by Prophet Mohammed's birthday, with a public holiday on September 29.

The holiday for the UAE's 52nd National Day falls on December 2 and 3.

In Saudi Arabia, residents can expect to enjoy a public holiday prior to Ramadan, with the country marking Saudi Foundation Day on February 22.
After Eid al-Fitr, Saudi residents can expect about four days off for the Eid al-Adha holidays (June 27-30, to be confirmed), and a day off on September 23 to mark Saudi National Day.