Palestinian PM accuses Israel of 'plan to turn al Aqsa Mosque into Jewish temple'
January 3, 2023
Reuters, Ramallah
…Jordan condemns in 'severest' terms Ben-Gvir's visit to al-Aqsa Mosque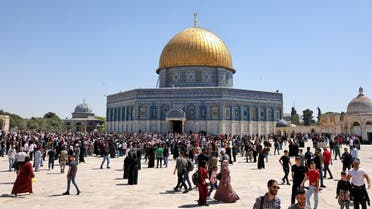 Palestinian Muslims gather at Jerusalem's al-Aqsa Mosque complex following on April 15, 2022. (AFP)
Palestinian Prime Minister Mohammad Shtayyeh cast a visit by a far-right Israeli official to a contested Jerusalem holy site on Tuesday as a bid to turn a major mosque there "into a Jewish temple."

Addressing his cabinet, Shtayyeh also called on Palestinians to "confront the raids into al Aqsa Mosque" after Israeli National Security Minister Itamar Ben-Gvir toured the periphery of the mosque compound. Ben-Gvir did not approach the mosque.
….Jordan condemns in 'severest' terms Ben-Gvir's visit to al-Aqsa Mosque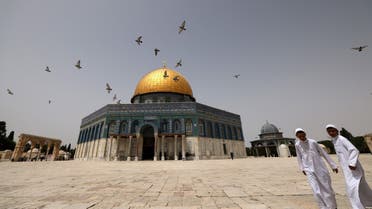 Palestinian Muslims walk in front of the Dome of Rock mosque at the al-Aqsa mosque compound in Jerusalem's Old City on April 17, 2022. (AFP)
Jordan said on Tuesday it condemned in "severest" terms a visit by Israeli far right national security minister Itamar Ben-Gvir to the al-Aqsa Mosque compound in Jerusalem.

"Jordan condemns in the severest of terms the storming of the al-Aqsa Mosque and violating its sanctity," said a statement by the foreign ministry.
Ben-Gvir briefly toured the site under heavy security. The compound is Islam's third holiest site after Mecca and Medina and Judaism's most sacred site, a vestige of two ancient temples of the faith.