Iran to get Russian Sukhoi Su-35 fighter jets, defense systems by March
– Bloomberg
January 17, 2023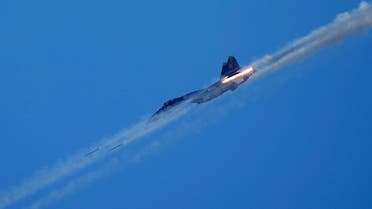 A Sukhoi Su-35 jet fighter performs during the International Army Games 2016, in Dubrovichi outside Ryazan, Russia, on August 5, 2016. (Reuters)
Iran will receive a number of Russian Sukhoi Su-35 fighter jets by March as part of a military order that includes defense systems, missiles, and helicopters, the semi-official Tasnim news agency reported, citing an interview with a lawmaker.
Shahriar Heydari, who is a member of the Islamic Republic's parliamentary commission for national security and foreign policy, didn't specify the number of aircraft ordered.
Iran has developed closer ties to Russia since its invasion of Ukraine and has provided Moscow with military drones for its war, prompting tighter sanctions and heavy condemnation from the US and European Union.
Heydari's comments also come as the Islamic Republic faces a growing international rebuke over its deadly crackdown of anti-government unrest and its use of executions against protesters.