German national arrested in Iran for taking photos of 'sensitive' oil sites: Report
-Al Arabiya English
Published: 17 January ,2023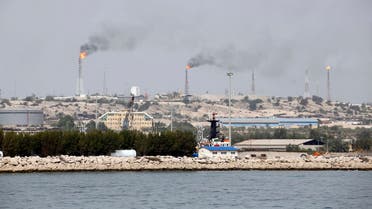 A picture taken on March 12, 2017, shows a view of an oil facility in Iran's Khark Island, on the shore of the Gulf. (AFP)
Iran has arrested a German national for taking photographs of oil facilities in the country's southwestern Khuzestan province, a state-run news outlet reported on Tuesday.
"A German citizen was arrested while taking pictures of oil facilities in Omidiyeh," a city in the oil-rich province, Jam-e Jam reported.
The outlet did not give any further details but appeared to link the arrest to anti-regime protests in Iran, saying: "Previously, some foreign nationals, including Germans, were arrested in the recent riots."
Tensions between Iran and Western nations, including Germany, have been high in recent months over Iran's alleged provision of weapons to Russia and its deadly crackdown on domestic protesters.
Tehran has accused Western powers of instigating the protests that followed the death in custody of 22-year-old Iranian Kurdish woman Mahsa Amini on September 16.
The protests, which quickly escalated into calls for the overthrow of the Islamic Republic, have been met with a violent crackdown from authorities, resulting in the deaths of hundreds and the arrest of thousands, according to human rights groups.
Iran said on Saturday it had executed a former government official who held dual Iranian-British citizenship on espionage charges, further exacerbating tensions.