China supports Iran to safeguard 'legitimate' rights over nuclear issue, Xi says
– agency report
14 February , 2023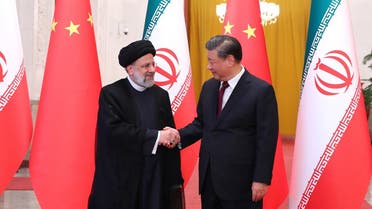 Chinese President Xi Jinping welcoming the Islamic Republic's President Ebrahim Raisi (L) during his visit in Beijing on February 14, 2023. (AFP)
China supports Iran in safeguarding its legitimate rights and promoting the early and proper resolution of the Iranian nuclear issue, Chinese President Xi Jinping told his Iranian counterpart on Tuesday.
"China will continue to constructively participate in the negotiations on resuming Iran's nuclear agreement," Xi told Iranian President Ebrahim Raisi.
Raisi is scheduled to visit Beijing from February 14-16.
China's President Xi Jinping will hold talks with Iranian President Ebrahim Raisi during his visit to China over the next three days, state media reported on Tuesday.
Xi had invited Raisi to Beijing, and their meeting comes as both Iran and China face rising tensions with the United States over a range of global issues.
For the latest headlines, follow our Google News channel online or via the app.
Ahead of his visit, Raisi wrote an editorial in China's state-controlled People's Daily in which he said both countries believe that unilateralism and "violent" measures such as the imposition of "unjust" sanctions are the main causes of crises and insecurity in the world.
In the editorial, Raisi described China as an "old friend," and said Iran's efforts to strengthen bilateral relations would unaffected by regional and international situations.
The two governments are expected to sign cooperation documents during the visit, according to Iran's state news agency IRNA.
Xi and Raisi pledged to forge a stronger alliance when they last met in person on the sidelines of the Shanghai Cooperation Organization summit in the Uzbek city of Samarkand in September.