Abu Dhabi uses drones to plant one million mangrove seeds as part of climate pledge
– Al Arabiya English
12 January ,2023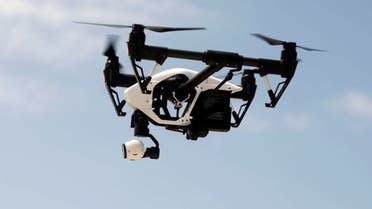 Abu Dhabi's Environment Agency (EAD) has used drones to plant one million mangrove seeds across the emirate as part of its climate pledge. (Twitter)
Abu Dhabi's Environment Agency (EAD) has used drones to plant one million mangrove seeds across the emirate.
The mangroves – planted at different locations across the Al Dhafra region – is part of the first phase of a drone mangrove plantation project supporting the Abu Dhabi Mangrove Initiative, state news agency WAM reported Thursday.
The process involves using drones to scan the topography of the area to create a 3D map. Then the most efficient planting pattern for that area is calculated using algorithms. Drones are then loaded with germinated seeds and dropped from the sky.
The process is faster and cheaper than hand-planting as it removes the need for intense labour and sapling transportation. It is also cost-effective as it reduces the overall price of mangrove planting, eliminates the need for mangrove nurseries and associated costs, and facilitates reaching remote and difficult areas.
The Abu Dhabi Mangrove Initiative was first announced in February 2021 during Prince William, the Duke of Cambridge's visit to the UAE, where he met with Sheikh Khaled bin Mohamed bin Zayed, Member of Abu Dhabi Executive Council and Chairman of Abu Dhabi Executive Office, at Jubail Mangrove Park.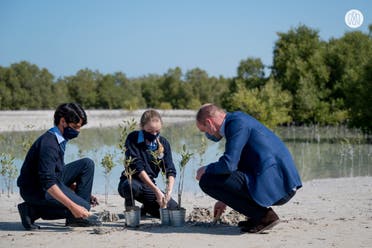 Britain's Prince William plants trees with local schoolchildren at Jubail Mangrove Park in Abu Dhabi, UAE, on Thursday February 10 2022. (WAM)
The initiative supports Abu Dhabi's plans to establish the emirate as a global hub for research and innovation in support of the conservation of mangroves and focuses on the importance of mangroves for carbon sequestration to combat climate change.
It also aids the UAE Ministry of Climate Change and Environment's target, announced during COP26 in Glasgow in 2021, which unveiled a nationwide plan to plant 100 million mangroves by 2030.
Dr Shaikha Salem al-Dhaheri, Secretary-General of EAD, said that the UAE began mangrove plantation in the 1970s under the guidance of the late Sheikh Zayed bin Sultan Al Nahyan, founder of the UAE, and also known as the country's first environmentalist.
He commenced mangrove plantation along the coasts of the islands and mainland of the emirate of Abu Dhabi. The Eastern Mangrove plantation was the inception of the first mangrove plantation programme in Abu Dhabi.
She said: "Even though the world's mangroves are declining due to natural and human challenges they are facing, Abu Dhabi has a different story to tell as the plantation of mangroves has continued in the UAE at large and in Abu Dhabi in particular, in a slow but steady manner."
"A prime example is our latest project of planting one million mangrove seeds via innovative drone technology. This project is one of several programmes run by the Abu Dhabi Mangrove Initiative to support the UAE's pledge to plant 100 million mangroves in 2030."